Ornamental fish exporter

We are leading of ornamental fish tropical aquarium fish exporter ,live tropical fish from Thailand to ornamental fish importers and exporter in worldwide market. we can supply many kind of freshwater tropical fish and coldwater freshwater fish , that very popular aquarium fish Betta , Koi , Cichlid , African cichlid, Discus, Goldfish, Gourami, Shark , Guppy , Platy etc. We had experience in business tropical fish for sale more than 30 years.


"We deliver the confidence of high quality fish , guarantee alive and competitive price"
We are professional tropical ornamental aquarium fish exporter and supplies only quality fishes that sure our customers must receive best fish and arrival alive at destination. We guarantee replace DOA 100% .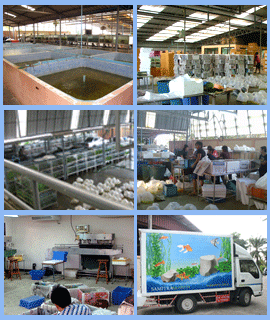 Why you must buy fish from our company ?
1. Experience in export live tropical fish business more than 15 year.
the management team had experience in business more than 15 year that guarantee our company have good relation with many breeding farm and all exporter in Thailand. All our staff pass training and working for the best skill for select the good quality fish for our customer and had skill and knowledge for prepare fish for exportation to our customer all country.

contact farming with many breeding farm for guarantee continuous supply all kind of fish all season.
2. Full facility of large size of export company.
Our company already have facility for operate for deliveries the best quality fish to our customers :

in-house individual packing machine ,that can save the quality of fish send to our customer all kind of fish in serious pack. (Discus fish, Betta fish , Cichlid, Scat , Mono , etc.)
Temperature packing room
in-house Air-condition Truck for control temperature on transportation between our company area to the airport.
In-house quarantine area , mare than 400 glass tank and 50 cement pond.
In-house mini-lab for test and check the quality of fish send fish to customers that for make sure our fish clear and clean.
in serious case need High Standard Lab -Test , we send fish to Out-side High Standard Lab -Test for special certificate for some country.
3. Our company registry with The Fisheries Department of Thailand.
our company registry and pass rule of control for export company from The Fisheries Department of Thailand, and they will re-check standard every 6 month .

That guarantee our company available export fish to all country in the world and we can prepare Health Certificate and all document in special requirement for all country.

4. Use new technology in packing process for the best efficiency in transportation fish to all customer .
for the best efficiency of transportation :
our company use new technology for guarantee our fish alive to all destination of our customer :

We use new technology of the water for packing fish that our water is very clean and

"have more oxygen 2-3 equal than the same general water"

that make sure our fish available alive on long time shipment between 48 – 72 hours on normal density fish of packing .
We use new enzyme product for control the water quality on transportation that make sure our fish carry on good condition and fresh when arrival to our customers.

All our customers should be receive fish in lower DOA that other exporter and average low cost per unit. (save transportation cost and low DOA)
5. All shipment, we work with the number one of forwarder agent of Thailand. (Live animal) and professional airline in reasonable freight cost.
That make sure , all shipment will carry be professional from Bangkok to all country in the world, and our forwarder agent will find our the best airline and reasonable freight cost for our customer.
for more information
visit http://www.asiatropicalfish.com
Please contact Mr. Vit.
Tel./SMS. +6685 6886889
email sale@asiatropicalfish.com , asiatropicalfish@gmail.com